About the Cast
Malcolm McDowell (Enda Doyle)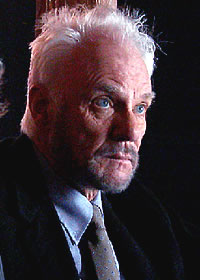 Malcolm McDowell is one of the best-known and respected UK actors working in Hollywood and around the world. His career in film spans five decades, but he is just as busy now as he was when he first rose to fame in the late 1960s, starring in Lindsay Anderson's legendary films If… (1968) and O Lucky Man! (1973). But the film that catapulted his career was Stanley Kubrick's infamous A Clockwork Orange (1971). Other legendary roles include his portrayal of H.G. Wells chasing Jack the Ripper in Time After Time (1979) and the villainous Dr. Soran who defeats Captain Kirk in Star Trek: Generations (1994).
In the last four years, McDowell has appeared in more than 35 films and television productions, including Robert Altman's The Company (2003), Mike Hodges' I'll Sleep When I'm Dead (2003), the Bobby Jones biography Stroke of Genius (2004) and Evilenko (2004), the story of Russia's most famous and feared serial killer. On television, he has appeared as a recurring guest star on HBO's "Entourage" (2005-06) and in the NBC hit "Heroes" (2007). Most recently, he co-starred in Rob Zombie's Halloween (2007), the epic mini-series "War and Peace" (2007), and with Bob Hoskins in the feature film Doomsday (2008). He will star with Joseph Fiennes in the upcoming bio-pic Vivaldi.
McDowell brings the perfect combination of eccentricity and pathos to his role as Enda Doyle, and his presence always commands the screen. Even during soliloquies to a video camera, he conveys the subtleties of his character, gradually revealing his touching legacy to his family. Among his many accolades as a critically acclaimed actor, McDowell has been nominated for a Golden Globe Award and honored by the Deauville Film Festival in France.
Olivia Tracey (Moya Doyle)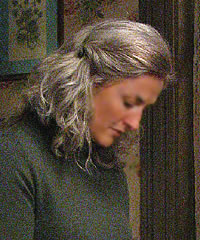 This well-known Irish beauty and former "Miss Ireland" is best known for her work in the theater and as a model, journalist, and television personality. Olivia Tracey has appeared in Agnes Brown (1999), The Island (2005), and with Robert Duvall in Curtis Hanson's Lucky You (2007). On television she has been featured in "The Handler" (2004) and "Gilmore Girls" (2005).
In Red Roses and Petrol, Ms. Tracey plays Moya Doyle, the restrained force that has held the "devilish Doyle clan" together for years. Her internal disappointments and frustrations had been held in check until Enda's death.
Heather Juergensen (Medbh Doyle)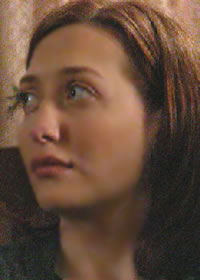 Heather Juergensen first came to moviegoers' attention with the critically acclaimed Kissing Jessica Stein (2002), which she also co-wrote and co-produced. The screenplay was nominated for an Independent Spirit Award. Originally from Brooklyn, Ms. Juergensen has been writing and performing for the stage in New York and Los Angeles since the late 1980s. She began her career as a writer-performer in New York with the one-woman show, "Letters to an Older Man."
Film credits include Sundance award-winner The Afterlife of Grandpa (1989), Disney's The Haunted Mansion (2003) starring Eddie Murphy, and The Hammer (2007) with Adam Carolla. Juergensen's recent solo theatrical effort, "Blackwannabe," is a show about growing up in Flatbush, Brooklyn, and received strong critical acclaim on both coasts. As Medbh, the quirky, still-at-home, youngest daughter of the Doyle clan, Juergensen's sharp sense of humor provides welcome moments of levity as she helps the family deal with the loss of their father.
Max Beesley (Johnny Doyle)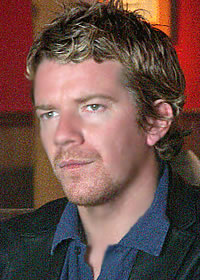 Max Beesley, star of the current BBC and BBC America smash hit "Hotel Babylon" (2006-07), which is now in its third season, first received critical acclaim in the UK for his outstanding performance as the title character in the BBC adaptation of Henry Fielding's classic "The History of Tom Jones" (1997). He also starred in Mike Figgis' Hotel (2001) with Salma Hayek, and was featured in the action/adventure film Torque (2004) with Ice Cube and Dane Cook. In addition, Beesley appeared in 15 episodes of the popular, medical-themed UK television series "Bodies" (2004-05). Upcoming shows include "Talk to Me," "The Last Enemy" for British television and PBS, and the feature film, Mr. Goodnight. Also an accomplished jazz and rock drummer, he has toured with George Michael, George Benson and British rocker Robbie Williams.
As Johnny Doyle, Beesley impresses audiences as the powder keg whose repressed emotions explode quite viciously against his family. Though his methods leave much to be desired, ultimately he is seeking love.
Susan Lynch (Catherine Doyle)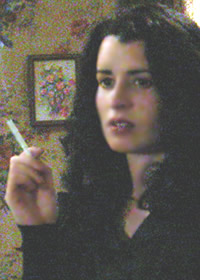 Born in Northern Ireland, Susan Lynch is a popular TV and film actress in the UK with
over 38 productions to her credit since 2000. Ms. Lynch has demonstrated great versatility as an actress, shifting between quirky, independent projects and high-profile studio films. Her feature film work includes Interview with the Vampire (1994) with Tom Cruise and Brad Pitt, Irish-themed independent hit Waking Ned Devine (1998), Beautiful Creatures (2000) (for which she received a best actress nomination from the British Independent Film Awards), and From Hell (2001) with Johnny Depp.
Additionally, she won Best Actress accolades from the Irish Film and Television Awards for Nora (2000) and "Any Time Now" (2002). Most recently she starred in 15 episodes of the UK hit television series "Bodies" (2004-05) and the feature film Elizabeth: The Golden Age (2007) with Cate Blanchett. As favored eldest daughter Catherine, the sharp-tongued realist, Lynch provokes long buried revelations.
Greg Ellis (Tom Ivers)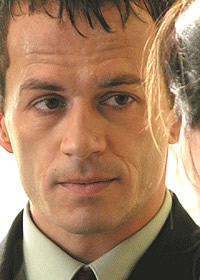 With several blockbuster movies to his credit, including Pirates of the Caribbean (2003)
and Pirates of the Caribbean: At Worlds End (2007), as well as best picture winner Titanic (1997), Mr. and Mrs. Smith (2005) and the much anticipated Beowulf (2007), Greg Ellis is rapidly becoming one of Hollywood's hottest stars. He joined the cast of the FOX hit series "24" (2003-04) for nine memorable episodes as virus broker Michael Amador. Additional television work includes: "Star Trek: Deep Space Nine" (1999), "The X-FILES" (1998) and "C.S.I." (2005). British-born but now living in Hollywood, Ellis took to the stage early, appearing in "Oliver" and "The Sound of Music."
His London West End credits include starring roles in the original cast of Andrew Lloyd-Webber's "New Starlight Express" and the hit musical "Miss Saigon." His vocal dexterity can also be heard in numerous animated features and series including Bratz, Garfield 2, and "What's New, Scooby-Doo?" As Tom Ivers, the boyfriend that Catherine brings home, Ellis helps the family find a center as the impact of their father's untimely death threatens to tear them apart.
Catherine Farrell (Helen)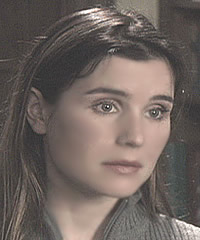 Catherine Farrell makes an impressive and sensitive big-screen debut as Helen, the young mystery woman whose presence shakes up the family already on the edge. She is no stranger to film production, having been a production assistant on several films and assisting her acclaimed brother, Colin Farrell, in Hart's War (2002). She also recently acted as post- production coordinator on the Coen brothers' features The Ladykillers (2004), starring Tom Hanks, and Academy Award Best Picture winner No Country for Old Men (2007), with Tommy Lee Jones and Javier Bardem.
Aubrey Morris (The Chaplain)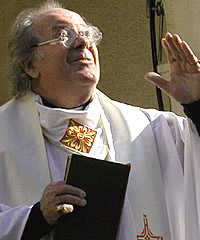 Aubrey Morris is a well-known British character actor. His film and television appearances are numerous, including the 1960s British cult TV series "The Saint" (1964), "The Avengers" (1966), "The Prisoner" (1967), and "Danger Man" (1964-66). These were followed by roles in the 1970s cult films A Clockwork Orange (1971), The
Wicker Man (1973) and Lisztomania (1975) with Roger Daltry and Ringo Starr. In the 1980s, he appeared in such popular hits as Oxford Blues (1984) with Rob Lowe and The Rachel Papers (1989), as well as on "Murder She Wrote" (1986-89) and the critically acclaimed television mini-series, "War and Remembrance" (1988). Most recently, Morris was featured in three episodes of HBO's hit series, "Deadwood" (2006).
Robert Easton (Jim)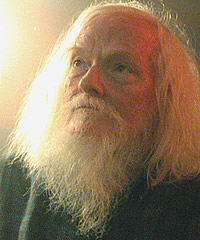 Born in Milwaukee, WI, and educated in Texas, Robert Easton has been acting in film and television since 1949 and is one of the most recognizable faces in the industry. His numerous appearances include such TV classics as "Gunsmoke" (1955), "The Andy Griffith Show" (1960), "The Lucy Show" (1967), and "Get Smart" (1968) and the films Voyage to the Bottom of the Sea (1961) and Paint Your Wagon (1969). In more recent years, he's had roles in Primary Colors (1998) and Gods and Generals (2003). In
addition to his acting career, Easton is a highly respected dialect coach, with credits including Good Will Hunting (1997), Night Falls on Manhattan (1997), and Face of Terror (2003). He continues to make guest appearances on television, including an episode of ABC's hit drama, "Lost."
Sean Lawlor (Professor Thompson)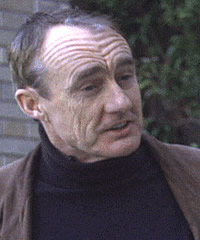 Sean Lawlor is a Dublin native, trained at the Abbey Theatre. Since 1979, his career has
included roles in such British television classics "Minder" (1984) and "Boon" (1986) and
the US hit, "Remington Steele" (1987). In film, he appeared in Mel Gibson's Braveheart
(1995), Some Mother's Son (1996) with Helen Mirren, In The Name of the Father (1993)
with Daniel Day-Lewis, and Titanic (1997). Most recently, Lawlor starred in On Broadway
(2007) playing Martin O'Toole. Additional television appearances include "Chicago
Hope" (1998), "Nash Bridges" (1998) and "Murder She Wrote" (2003). In the theater, he
starred recently in "Kings of Kilburn High Road."